Archives
Parents, please complete the Accountability Pillar Survey
As an annual check-up on the education system, the Accountability Pillar provides an opportunity for Alberta Education and school authorities to ensure we are equipping students for success.  Because we are a small school with less than 120 students, all Visions West Outreach School parents should receive the survey directly from Alberta Education.
All surveys are anonymous and ask questions about experiences in our school.  Your participation in the survey helps provide important information on the quality of education your child is receiving, so we encourage you to complete the survey and return it promptly.  Visions West will receive data in May.  We use that data to move our school goals forward.
Thank you, in advance, for taking the time to complete the survey.
Sincerely,
Mrs. Bobbie-Jo Douglas
Principal
Learning during COVID - 19 Restrictions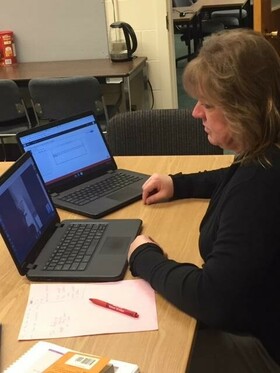 Over the course of the past month, many have asked, "What is school like now that there are no students there?" While our students are not physically present in the building, we are still working with most of them; our work simply looks different.  Google hangouts work really well for foods classes or quick tutorials for English and social studies and even for math and science. Google chats work well for students with limited internet. They simply send a quick message to one of us and we respond in the same manner. The telephone has been used so much that sometimes the service is overloaded and calls are dropped. Today's smartphones allow students to take pictures of their work and send it in that way. Students with iPhones will FaceTime staff. Google classroom is accessible wherever students have internet access and most are able to complete assignments with their smartphones. For students using paper materials, we have a weekly drop off and pickup schedule.  Students know that their work is quarantined so assessments will be longer coming back to them. Truly we do everything we can think of to connect with our students and ensure they have what they need to be successful moving forward as we know the essential outcomes are critical for their future success.
In the picture above, you will notice that Mrs. Simmelink has two Chromebooks in use.  On one she is in a Google Hangout with a student. On the second, she has called up the student's assignment.  How did that look on the other end?  The student accessed the Hangout with his cellphone while he used his Chromebook to look at the assignment.  
School Cash Online Payments
School Cash Online To make paying school fees easier, Wild Rose School Division will soon be accepting online payments. School Cash Online allows parents and community members to pay school-related fees online safely, quickly and easily. With School Cash Online, you can purchase items like sports team fees, lunches and field trips.
How it Works?

School Cash Online puts all of the school fees available for your student(s) online to purchase. You can have students in different schools and choose to pay fees online through credit card, eCheck and myWallet.
What is School Cash Online http://kevgroup.com/intro/?

For more information on this program or if you have any questions, please contact, Communications Coordinator, Nathan Klosse at 403-845-3376 or nathan.klosse@wrsd.ca

Monty K. Reed Inspires!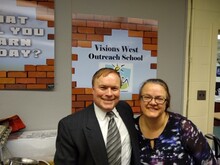 On Wednesday, January 29, students from both Visions West and Kootenay Schools met Monty Reed.  He shared his inspirational story of overcoming obstacles in his journey to success.  From being told he was not smart enough to go to college and after a traumatic back injury that he would never walk again, he proved both incorrect.  His message of perseverance, persistence and belief in one's own abilities in addition to finding one's own passion resonated with both staff and students.  The reminder that we have all been created with special skills, talents and abilities was well received.  We would like to thank Mr. Reed for sharing his time and message with us as well as Pastor Trevor Scott who arranged for Mr. Reed to join us.
Traditional Bannock Making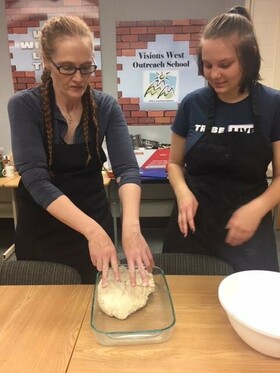 On Tuesday, October 22, four students learned how to make traditional bannock - both fried and baked.  We were pleased to have Jessi join us and teach us her family's traditional method - the four by four method.  That is, 4 ingredients (five for the baked variety) and 4 fingers.  The bannock created was light and fluffy and enjoyed by all students.  Thank you, Jessi, for sharing your family recipe, time and talent with us!
Have a Wonderful Summer!
As of June 28, 2019 at 4L00pm Visions West will be closed for the summer.
At this time we would like to thank our students, families and our amazing community for the ongoing support we've received throughout the year.
We wish you all a wonderful summer break and look forward to seeing you in September.  We will be registering students September 3 - 6.  Please call the school at 403-844-2355 to make an intake appointment.  
Celebrating National Aboriginal Day.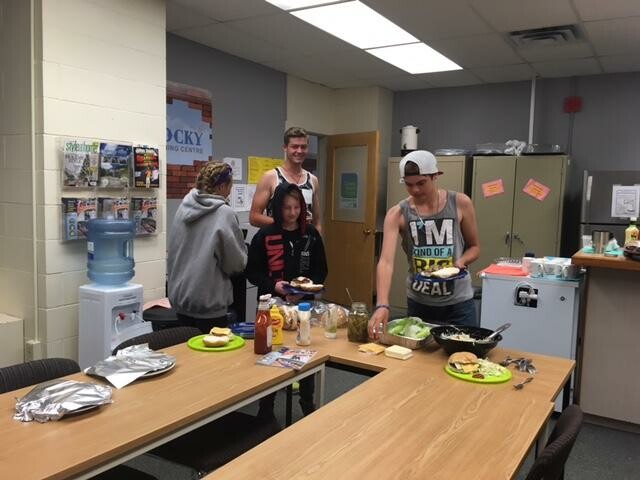 In honour of National Aboriginal Day, WRSD Student Services provided hamburgers for our students and staff.  A portion of the grant received from the Next to New provided coleslaw and fresh fixing for the burgers.  
Thank you community for your support!
Thank you to all who purchased Norwex products and ordered vegetables.  Your generosity raised almost $1100 to put towards enhancing student programs here at Visions West.  We sincerely could not have done it without you!
Have a Great Summer!
We would like to take this opportunity to thank our community partners for their generous support of our students.  We were blessed to provide nutritious food on a daily basis with hot food served at least once a week to our students thanks to the generosity of our community partners.  Moreover, our graduates were able to enjoy a wonderful celebration of their accomplishments including a supper which they prepared themselves.  
We hope our students, their families and support networks, and our community enjoys a wonderful summer filled with fun and frivolity.  We look forward to working with you again in September.
Sincerely,
The Staff of Visions West
New School Hours
Beginning on January 7, 2019, Visions West will open at 8:30am and close at 3:00pm Tuesday through Friday.  Mondays we open at 11:30 and close at 3:00.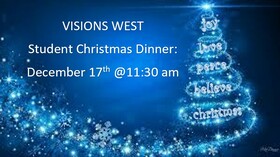 Thank you Next to New!
Next to New has donated generously to our school to support both the breakfast program and enhance our foods program.  We currently have many high school students enrolled in foods courses.  Thanks to the generous support received from Next to New, we have been able to offer onsite cooking and food preparation classes.  Students are having a great deal of fun while learning about healthy and nutritious food preparation.  Moreover, they are cooking for each other and providing hot lunch at least twice a week.  
We are sincerely grateful for the generous sponsorship that allows our students to thrive.
"The Village's" Support Remains Strong
According to an old African proverb, "it takes a village to raise a child". Never have I witnessed this to the extent that I have here at Visions West Outreach School.  Our community has come together to support our students – not just in this Holy Season – but throughout the year.  With the Next to New's sponsorship of a breakfast program in addition to parent and staff donations, our school is able to offer food on a daily basis to students.  At least twice a month our students are provided with a hot meal.  As Christmas has drawn closer, several local businesses and private donors have sponsored a Christmas feast and gifts for our students.  In particular we would like to thank: AR Croteau Welding Inc., M&M Foods, Rocky Mountain House Co-op, and Sobeys.  I would also like to thank the staff at Visions West and Wild Rose School Division along with the aforementioned whose generosity demonstrate to our students that there are many in our community standing behind them and encouraging them to be the best they can be, knowing supports exist for their well-being. 
As 2016 draws to a close, I would like to take this opportunity to wish you a very Merry Christmas and the richest blessings throughout the New Year.
Bobbie-Jo Douglas
Principal
Grade 7 Cultural Camp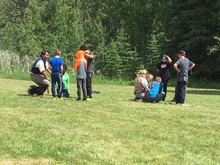 On Friday, June 16, our Visions West Grade 7 students, Zane and Chaya, along with Mrs. Croteau joined Pioneer's Grade 7s at the Rocky Mountain House National Historic Site.  Highlights of the day included games and activities, visiting a tipi where stories were told and learning about sweat lodges.  Zane really enjoyed the drumming while Chaya found the day interesting and particularly enjoyed learning about the four stages in the Circle of Life.
Which Lung Do You Prefer?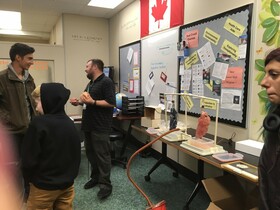 Nathan Hostland from Alberta Health Services spent time with our students on September 20, 2016.  His tobacco presentation included a lung demonstration where students were able to inflate both a healthy pink lung and a diseased blackened lung.  Students learned about the risks associated with tobacco use.
Terry Fox Run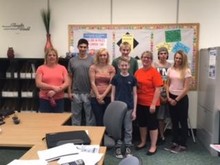 As part of our Fun and Fit Fridays, Mrs. Croteau and Mrs. Simmelink along with a group of students participated in the Terry Fox run last week.  The weather was beautiful and students and staff enjoyed being out in the sunshine savoring the fabulous fall colours.  Students returned to school in time for lunch with a special treat of homemade buns brought in by one of our parents.  What a marvelous way to end a week of learning!
Registration Information
Beginning on August 30, please call the school (403-844-2355) to set up an intake appointment.  On average, expect to spend an hour at the school.  We will dedicate the first week of September from 10:00am - 2:00pm to enroll our students.  Additionally, we will host two intake evenings for those unable to make a day appointment; they will be Tuesday, September 11 and Wednesday, September 19 running from 4:00 - 7:00pm.
Graduation 2019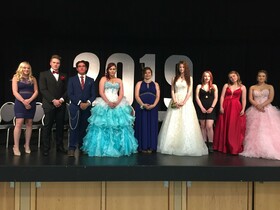 On Thursday, June 6, 2019, nine students participated in a beautiful ceremony recognizing their hard work and the effort involved in completing the requirements for an Alberta High School Diploma.  Highlights of the ceremony included a touching speech delivered by Isaiah Strawberry followed by a beautiful rendition of The Climb sung by Maria Biasini.  Upon completion of the ceremony, students, friends and family enjoyed a delightful supper prepared by WCHS's foods program under the direction of Ms. McPhedran.
Happy Halloween Costume Contest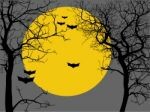 Put on your glad rags, witches hat or... be creative and join in the fun.  We have a few prizes for those who dress in costume on Monday, October 31.  Severed fingers disguised as Halloween hot dogs will be served at lunch.  We will also have some fun and board games in the afternoon.  Don't worry - the lights will remain on!  Thank you to Hope and Dignity as well as Visions' staff for prizes and treats.  We look forward to a spooktacular afternoon.
Merry Christmas!
Each year as I write my family's annual Christmas letter, I reflect on the year and the many blessings experienced in the past 12 months.  This year, more than ever, I have so much for which to be grateful.  As in years past, the Next to New continues to support our students through healthy and nutritious foods in addition to our onsite foods program.  This year Glamour Studio joined our "food family" as did our Rocky Co-op who generously donated turkey and cooked it for our Christmas feast as well as provided treat bags for our students. 
As Visions West moves towards hosting its inaugural graduation ceremony, our community has joined forces to ensure our students will benefit from a beautiful ceremony with minimal cost to each participant.  I would be remiss if I did not list the amazing organizations who have already provided sponsorship for Grad 2018: Challand Pipeline Ltd, Col Lar Construction, DEL Construction, Rainbow Ford Sales, Rocky Credit Union, Rocky Mountain House Co-op, and Rocky Mountain Dodge Chrysler Jeep.
Thank you to everyone who supported our Norwex and Farm to Schools fundraisers.  Thank you to the Anderson, French, Hansen, Matheson, and Unwin families for their generous donations.  Thank you to the incredible staff at Visions who make everyday fulfilling with their countless acts of kindness and generosity.
It has been said before that it takes a village to raise a child.  I am so proud to be a part of Rocky Mountain House; our community is incredibly generous in its support of our students.  We honestly would not have this much success were it not for the village coming together.
As 2017 draws to a close, I would like to take this opportunity to wish you a very Merry Christmas and blessed New Year!
Sincerely,
Bobbie-Jo Douglas
Rocky's Fine Art Walk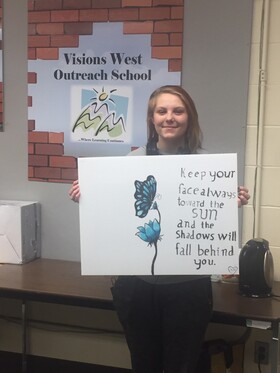 Students from all of Rocky Mountain House's schools have spent the past month creating art to display from May 5 through May 10.  The art is done in part to recognize the challenges our youth face with mental health.  Four students from Visions West participated in the project.  You will be able to see art from Zane, Hayden, Kearin and Kirsten when you walk along our community's beautiful walking trails.  We hope you enjoy our students' amazing art projects as you communing with nature.
This project was sponsored by Timberline Local no. 9, Saint Thomas Aquinas Teachers' Local No. 45 and Red Deer Catholic Local No. 80.  Thank you to the teachers from Wild Rose School Division for their time delivering and collecting the canvasses and putting up the art for all to enjoy.
Grad Preparations Underway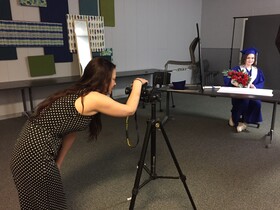 Special thank you to Nicole Nabess of Meraki Photography here in Rocky Mountain House who donated her time and talent taking beautiful graduation portraits.  One student, Maria, stated, "our photographer was very vibrant and helpful".
Cooking for the Crowd!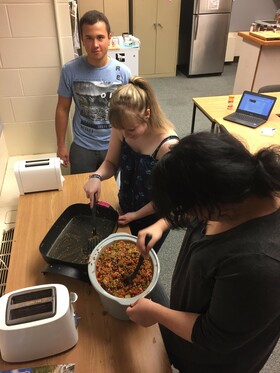 For the first time, Visions West students are cooking at school.  In preparation for tomorrow's Terry Fox run, (we want our students to have a hot and tasty meal waiting for them upon completing the course) Alyssa, Darian and Marlee prepared a massive slow cooker full of chili.  We are very much looking forward to sampling their offering!  
MaKey MaKey Piano Fun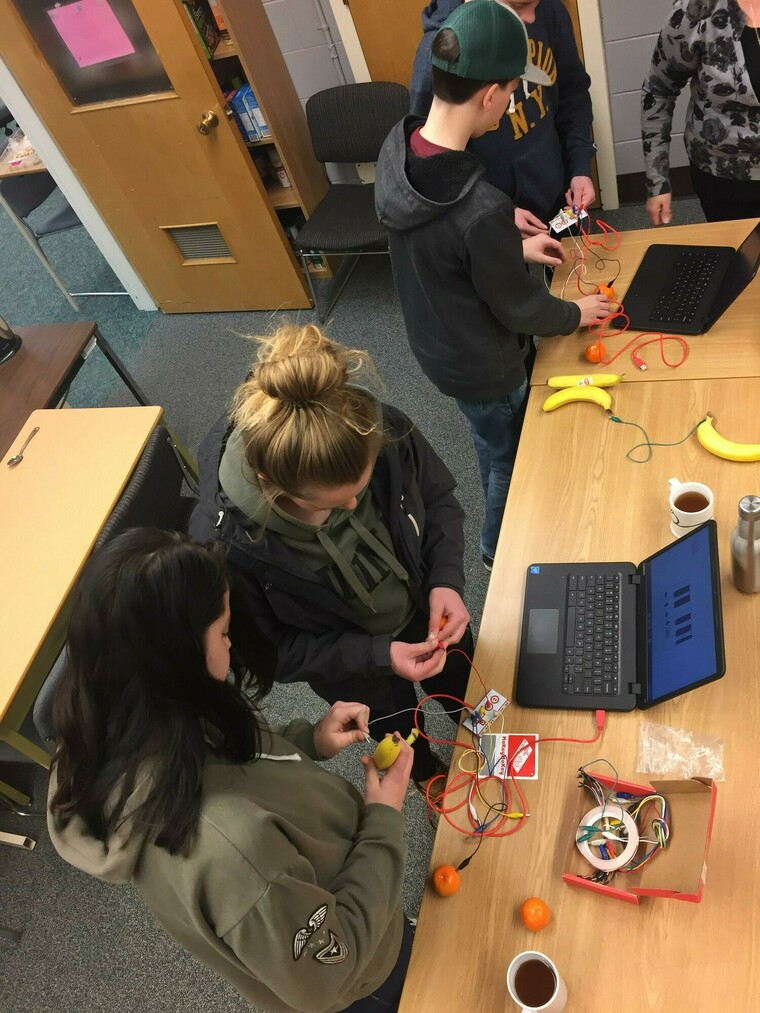 On Thursday, February 28, Grade 8 and 9 students worked with Mrs. Allen to build MaKey MaKey Pianos that were played with bananas and oranges.  Students had so much fun with the music, they experimented with using themselves to play - and made incredible noise with simultaneous foot taping.  The boys rounded out the session by creating pencil drawings and using those to power a video game.  Who knew such fun could be had playing with circuits?!
Learning Commons Fun!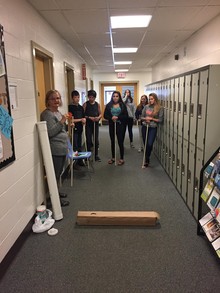 We are blessed to have Mrs. Allen spending a bit of time in our school this year.  As a Learning Commons Facilitator she has much to offer our students.  Thursday, September 27 had our junior high students engaged in a rousing blow dart competition.  Due to the fun had, senior high students and even a couple of staff decided to join in.  Chaya was the amazing winner with the only bullseye blown today.

Mrs. Allen prepares a fun and engaging activity for our students on a monthly basis.  We are thrilled to have her on our team to offer best practice from a Learning Commons perspective as well as provide a bit more fun for our students.
Merry Christmas and Happy New Year
Each year as Christmas approaches, I reflect upon the blessings of the year.  I am humbled by the continuous support and generosity afforded to our students.  I am reminded, regularly, that we live in a community that believes in our youth and their ability to be amazing when provided proper supports.  With our inaugural graduation ceremony in 2018, we hosted a beautiful ceremony and supper fully sponsored by various business and community members.  We provide meals on a daily basis thanks to community support.  Our students have attended Red Deer Rebels games, learned how to prepare healthy, nutritious and economical meals, and participated in various co-curricular activities all because of this amazing community in which we exist.
Thank you, Rocky Mountain House and surrounding communities, for your support.  May the blessings of this season be yours today and throughout the coming year.
Bobbie-Jo Douglas
Fun Fit Friday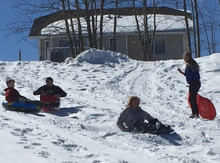 March 23, 2018
As part of our school's physical activity plans, students enjoyed time sliding this afternoon.  We were gifted with a couple of inches of fresh snow last night so that made today's event a great deal of fun.  Junior and senior high students as well as some staff enjoyed the outing in the brilliant sunshine.
Thank you Ta 'Otha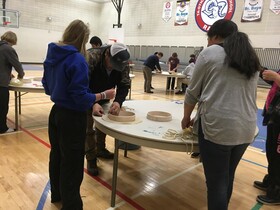 March 1, 2018
Our students were thrilled to take part in Ta 'Otha School's Cultural Days where they were able to participate in drum making, beading, snowshoeing, and ice fishing among other wonderful learning activities.  We would like to thank everyone for welcoming us and sharing these days with us.