Celebrating National Aboriginal Day.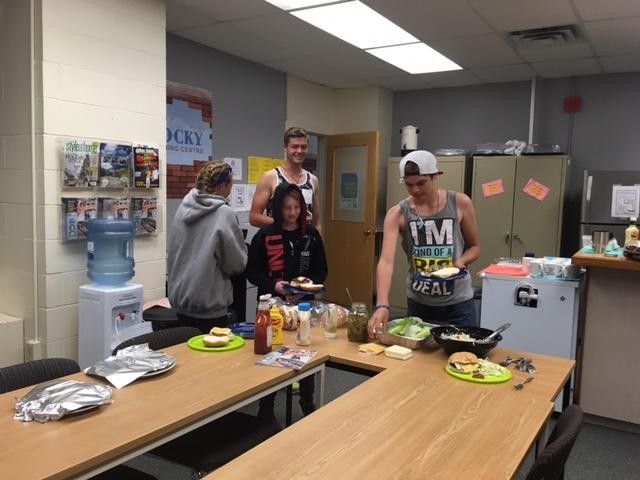 In honour of National Aboriginal Day, WRSD Student Services provided hamburgers for our students and staff.  A portion of the grant received from the Next to New provided coleslaw and fresh fixing for the burgers.  
Grade 7 Cultural Camp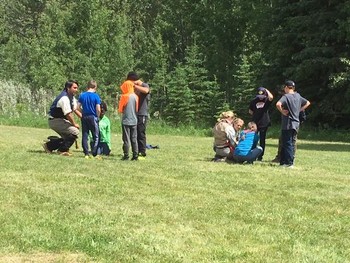 On Friday, June 16, our Visions West Grade 7 students, Zane and Chaya, along with Mrs. Croteau joined Pioneer's Grade 7s at the Rocky Mountain House National Historic Site.  Highlights of the day included games and activities, visiting a tipi where stories were told and learning about sweat lodges.  Zane really enjoyed the drumming while Chaya found the day interesting and particularly enjoyed learning about the four stages in the Circle of Life.
School Cash Online
For safety and efficiency reasons, Wild Rose School Division would like to reduce the amount of cash & checks coming into our school. Please join the thousands of parents who have already registered and are enjoying the convenience of paying ONLINE!   It takes less than 5 minutes to register.  Please follow these step-by-step instructions, so you will begin to receive email notifications regarding upcoming events involving your child(ren).  
NOTE:  If you require assistance, select the SUPPORT option in the top right hand corner of the screen.
Step 1: Register
If you have not registered, please go to the School Cash Online
home page https://wildrose.schoolcashonline.com/
and select the "Get Started Today"
Complete each of the three Registration Steps
*For Security Reasons your password, requires 8 characters,
 one uppercase letter, one lowercase letter and a number.
Step 2: Confirmation Email
A registration confirmation email will be forwarded to you.  Click on the link provided inside the email to confirm your email and School Cash Online account.The confirmation link will open the School Cash Online site prompting you to sign into your account.  Use your email address and password just created with your account.
Step 3: Find Student
This step will connect your children to your account.
Enter the School Board Name.
Enter the School Name.
Enter Your Child's Student Number, Last Name and Birth Date.
Select
On the next page confirm that you are related to the child, check in the Agree box and select Continue.
Your child has been added to your account.
Step 4: View Items or Add Another Student
If you have more children, select "Add Another Student" and repeat the steps above.  8 children can be added to one parent account. If you do not wish to add additional children, select "View Items For Students" option.  A listing of available items for purchase will be displayed.
School Cash Online Payments
School Cash Online To make paying school fees easier, Wild Rose School Division will soon be accepting online payments. School Cash Online allows parents and community members to pay school-related fees online safely, quickly and easily. With School Cash Online, you can purchase items like sports team fees, lunches and field trips.
How it Works?

School Cash Online puts all of the school fees available for your student(s) online to purchase. You can have students in different schools and choose to pay fees online through credit card, eCheck and myWallet.
What is School Cash Online http://kevgroup.com/intro/?

For more information on this program or if you have any questions, please contact, Communications Coordinator, Nathan Klosse at 403-845-3376 or nathan.klosse@wrsd.ca