Thank you community for your support!
Thank you to all who purchased Norwex products and ordered vegetables.  Your generosity raised almost $1100 to put towards enhancing student programs here at Visions West.  We sincerely could not have done it without you!
Thank you Next to New!
Next to New has donated generously to our school to support both the breakfast program and enhance our foods program.  We currently have many high school students enrolled in foods courses.  Thanks to the generous support received from Next to New, we have been able to offer onsite cooking and food preparation classes.  Students are having a great deal of fun while learning about healthy and nutritious food preparation.  Moreover, they are cooking for each other and providing hot lunch at least twice a week.  
We are sincerely grateful for the generous sponsorship that allows our students to thrive.
Terry Fox Run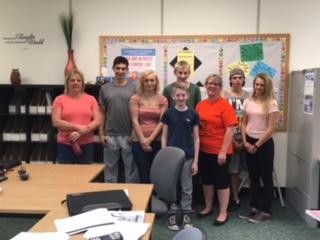 As part of our Fun and Fit Fridays, Mrs. Croteau and Mrs. Simmelink along with a group of students participated in the Terry Fox run last week.  The weather was beautiful and students and staff enjoyed being out in the sunshine savoring the fabulous fall colours.  Students returned to school in time for lunch with a special treat of homemade buns brought in by one of our parents.  What a marvelous way to end a week of learning!
Cooking for the Crowd!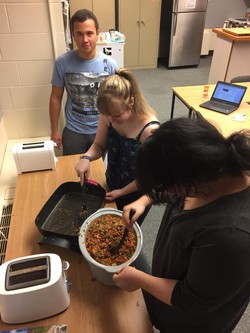 For the first time, Visions West students are cooking at school.  In preparation for tomorrow's Terry Fox run, (we want our students to have a hot and tasty meal waiting for them upon completing the course) Alyssa, Darian and Marlee prepared a massive slow cooker full of chili.  We are very much looking forward to sampling their offering!  
School Fees 2017-2018
Refundable resource/completion fee $82
First Aid (optional course)  $31
Bulk School Supplies (paper, pens, etc.)  $20
- Parents and students wishing to bring their own supplies are not required to pay the $20 fee.
"Please be advised that all fees contain a 1.5% district processing fee for online cash payments relating to the processing of credit card charges.  It should be noted that the DO Processing fee is only a partial cost recovery, and will not cover all of the online costs (which will be paid for by Division Office)".
School Cash Online
For safety and efficiency reasons, Wild Rose School Division would like to reduce the amount of cash & checks coming into our school. Please join the thousands of parents who have already registered and are enjoying the convenience of paying ONLINE!   It takes less than 5 minutes to register.  Please follow these step-by-step instructions, so you will begin to receive email notifications regarding upcoming events involving your child(ren).  
NOTE:  If you require assistance, select the SUPPORT option in the top right hand corner of the screen.
Step 1: Register
If you have not registered, please go to the School Cash Online
home page https://wildrose.schoolcashonline.com/
and select the "Get Started Today"
Complete each of the three Registration Steps
*For Security Reasons your password, requires 8 characters,
 one uppercase letter, one lowercase letter and a number.
Step 2: Confirmation Email
A registration confirmation email will be forwarded to you.  Click on the link provided inside the email to confirm your email and School Cash Online account.The confirmation link will open the School Cash Online site prompting you to sign into your account.  Use your email address and password just created with your account.
Step 3: Find Student
This step will connect your children to your account.
Enter the School Board Name.
Enter the School Name.
Enter Your Child's Student Number, Last Name and Birth Date.
Select
On the next page confirm that you are related to the child, check in the Agree box and select Continue.
Your child has been added to your account.
Step 4: View Items or Add Another Student
If you have more children, select "Add Another Student" and repeat the steps above.  8 children can be added to one parent account. If you do not wish to add additional children, select "View Items For Students" option.  A listing of available items for purchase will be displayed.