Monty K. Reed Inspires!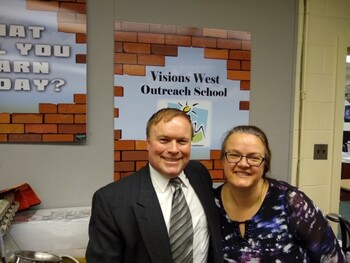 On Wednesday, January 29, students from both Visions West and Kootenay Schools met Monty Reed.  He shared his inspirational story of overcoming obstacles in his journey to success.  From being told he was not smart enough to go to college and after a traumatic back injury that he would never walk again, he proved both incorrect.  His message of perseverance, persistence and belief in one's own abilities in addition to finding one's own passion resonated with both staff and students.  The reminder that we have all been created with special skills, talents and abilities was well received.  We would like to thank Mr. Reed for sharing his time and message with us as well as Pastor Trevor Scott who arranged for Mr. Reed to join us.
Traditional Bannock Making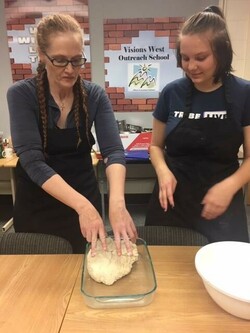 On Tuesday, October 22, four students learned how to make traditional bannock - both fried and baked.  We were pleased to have Jessi join us and teach us her family's traditional method - the four by four method.  That is, 4 ingredients (five for the baked variety) and 4 fingers.  The bannock created was light and fluffy and enjoyed by all students.  Thank you, Jessi, for sharing your family recipe, time and talent with us!
Welcome Back!
With summer waving farewell, classes are well underway here at Visions West.  We have been blessed with many new registrations as well as returning students.  We are looking forward to a fabulous year together.
For those of you still wondering whether we are the correct fit for your family, please remember our Open House on Thursday, September 12, running from 4:00 - 7:00.  Our teachers will be present to answer your questions.
We are thankful for the continued support of our amazing community and are grateful for the partnerships we have in place.
School Fees 2019-2020
Refundable resource/completion fee $80
First Aid (optional course)  $50
Art $25
Foods $10
Agriculture $10
Print materials for online courses $50.
Bulk School Supplies (calculator, pens, etc.)  $20
- Parents and students wishing to bring their own supplies are not required to pay the $20 fee.
Graduation 2019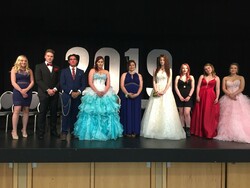 On Thursday, June 6, 2019, nine students participated in a beautiful ceremony recognizing their hard work and the effort involved in completing the requirements for an Alberta High School Diploma.  Highlights of the ceremony included a touching speech delivered by Isaiah Strawberry followed by a beautiful rendition of The Climb sung by Maria Biasini.  Upon completion of the ceremony, students, friends and family enjoyed a delightful supper prepared by WCHS's foods program under the direction of Ms. McPhedran.
Grad Preparations Underway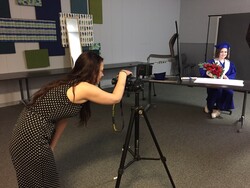 Special thank you to Nicole Nabess of Meraki Photography here in Rocky Mountain House who donated her time and talent taking beautiful graduation portraits.  One student, Maria, stated, "our photographer was very vibrant and helpful".
Rocky's Fine Art Walk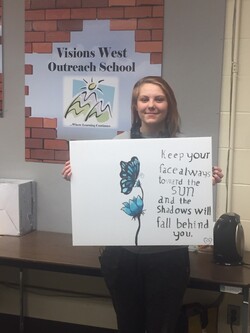 Students from all of Rocky Mountain House's schools have spent the past month creating art to display from May 5 through May 10.  The art is done in part to recognize the challenges our youth face with mental health.  Four students from Visions West participated in the project.  You will be able to see art from Zane, Hayden, Kearin and Kirsten when you walk along our community's beautiful walking trails.  We hope you enjoy our students' amazing art projects as you communing with nature.
This project was sponsored by Timberline Local no. 9, Saint Thomas Aquinas Teachers' Local No. 45 and Red Deer Catholic Local No. 80.  Thank you to the teachers from Wild Rose School Division for their time delivering and collecting the canvasses and putting up the art for all to enjoy.
MaKey MaKey Piano Fun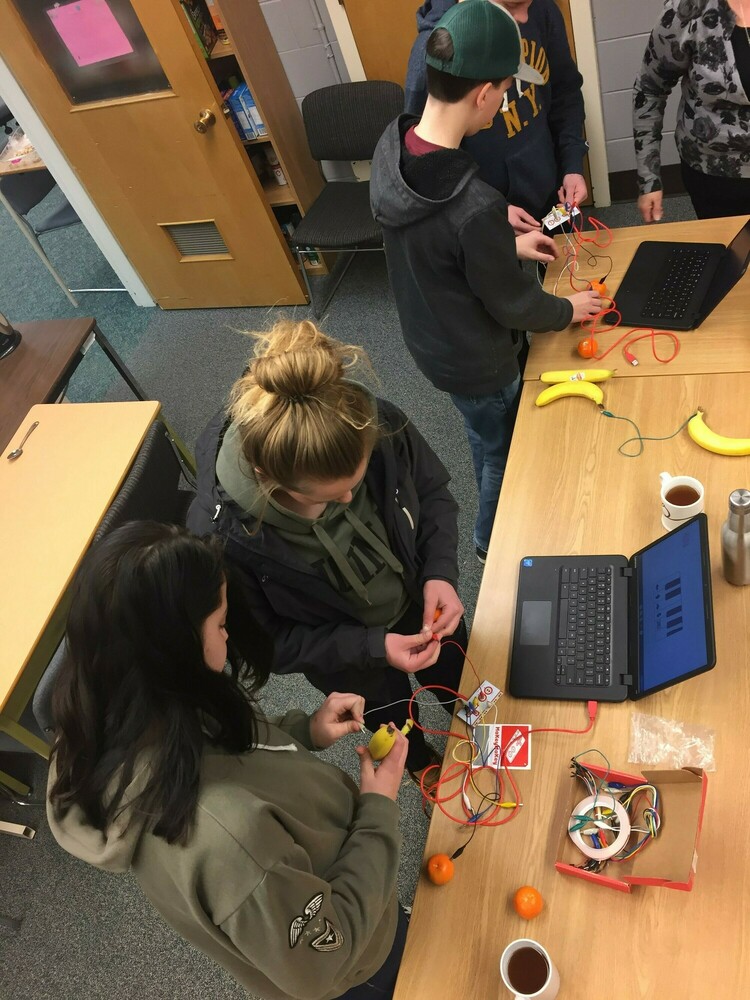 On Thursday, February 28, Grade 8 and 9 students worked with Mrs. Allen to build MaKey MaKey Pianos that were played with bananas and oranges.  Students had so much fun with the music, they experimented with using themselves to play - and made incredible noise with simultaneous foot taping.  The boys rounded out the session by creating pencil drawings and using those to power a video game.  Who knew such fun could be had playing with circuits?!
Learning Commons Fun!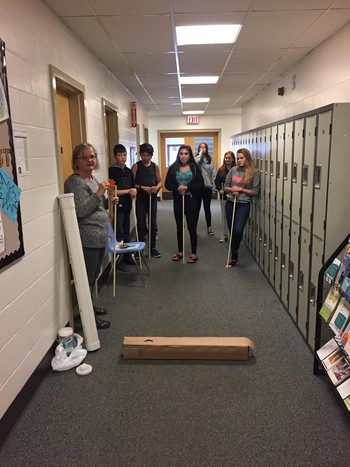 We are blessed to have Mrs. Allen spending a bit of time in our school this year.  As a Learning Commons Facilitator she has much to offer our students.  Thursday, September 27 had our junior high students engaged in a rousing blow dart competition.  Due to the fun had, senior high students and even a couple of staff decided to join in.  Chaya was the amazing winner with the only bullseye blown today.

Mrs. Allen prepares a fun and engaging activity for our students on a monthly basis.  We are thrilled to have her on our team to offer best practice from a Learning Commons perspective as well as provide a bit more fun for our students.
School Cash Online
For safety and efficiency reasons, Wild Rose School Division would like to reduce the amount of cash & checks coming into our school. Please join the thousands of parents who have already registered and are enjoying the convenience of paying ONLINE!   It takes less than 5 minutes to register.  Please follow these step-by-step instructions, so you will begin to receive email notifications regarding upcoming events involving your child(ren).  
NOTE:  If you require assistance, select the SUPPORT option in the top right hand corner of the screen.
Step 1: Register
If you have not registered, please go to the School Cash Online
home page https://wildrose.schoolcashonline.com/
and select the "Get Started Today"
Complete each of the three Registration Steps
*For Security Reasons your password, requires 8 characters,
 one uppercase letter, one lowercase letter and a number.
Step 2: Confirmation Email
A registration confirmation email will be forwarded to you.  Click on the link provided inside the email to confirm your email and School Cash Online account.The confirmation link will open the School Cash Online site prompting you to sign into your account.  Use your email address and password just created with your account.
Step 3: Find Student
This step will connect your children to your account.
Enter the School Board Name.
Enter the School Name.
Enter Your Child's Student Number, Last Name and Birth Date.
Select
On the next page confirm that you are related to the child, check in the Agree box and select Continue.
Your child has been added to your account.
Step 4: View Items or Add Another Student
If you have more children, select "Add Another Student" and repeat the steps above.  8 children can be added to one parent account. If you do not wish to add additional children, select "View Items For Students" option.  A listing of available items for purchase will be displayed.